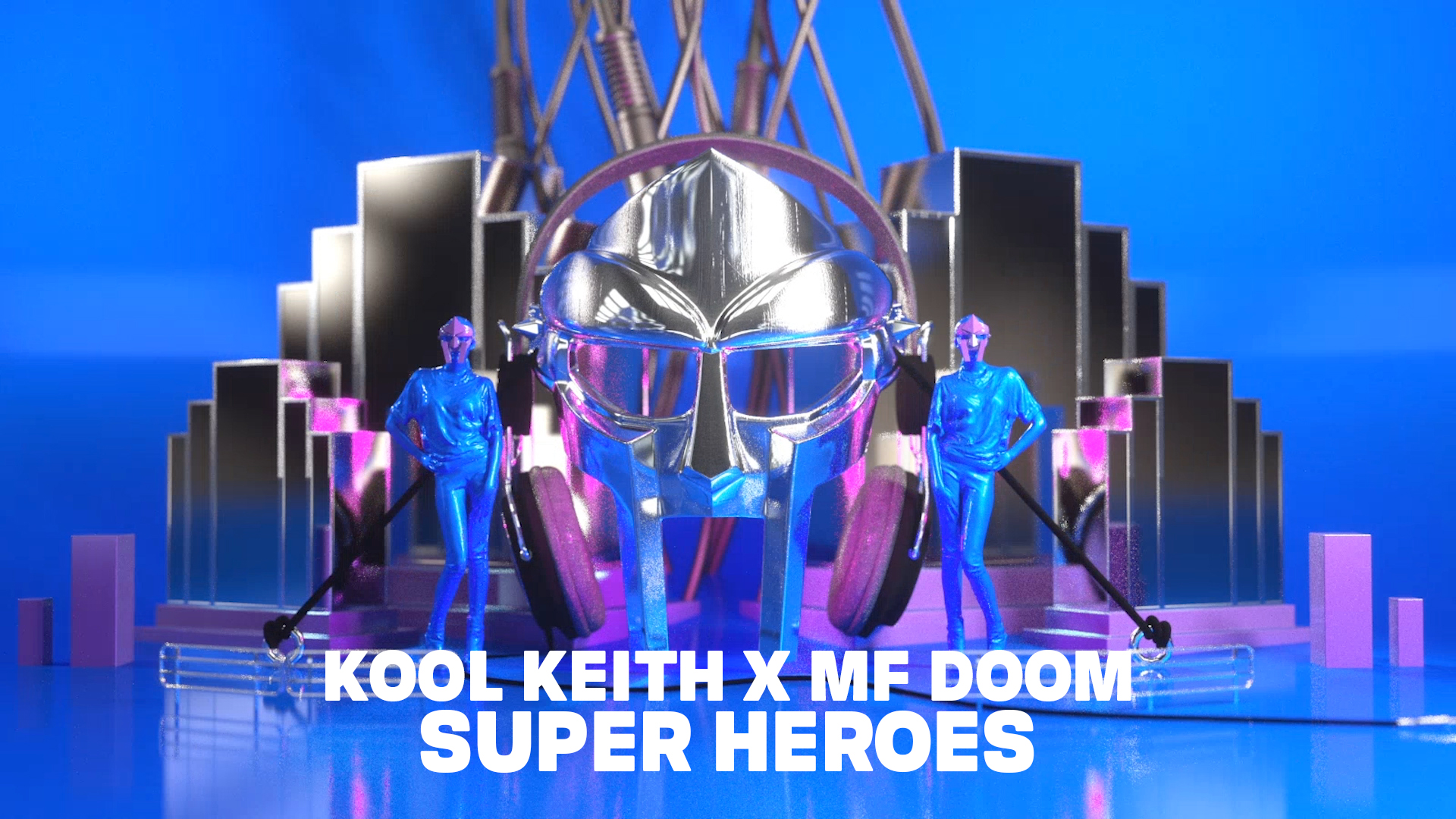 Animation studio Nathan Love has infused its distinctive design/animation talents and sensibilities into renowned director Kris Merc's mesmerizing music video for "Super Hero," the warbling, spacey leadoff single from Kool Keith's new album Feature Magnetic that marks a rather ideal collaboration between the enigmatic hip-hop legend and fellow lauded, eccentric MC, MF Doom.
A colorful, fast-paced film that serves up a variety of hypnotic imagery from eye charts to kaleidoscopic wheels around Doom's iconic, ever-rotating mask as its centerpiece, "Super Hero" is the wondrous result of Merc and Nathan Love leveraging creative synergy while indulging their mutual admiration for the musical talent involved. "Being a huge fan of both Kool Keith and MF Doom for years, and knowing our studio had capacity to help Kris out, we couldn't NOT get involved," recalls NL Founder/Executive Creative Director, Joe Burrascano. "Kris was able to let his imagination run wild. ANL's team of designers, 3D artists, and technical directors gave him all the support he needed to help shape his vision and make the final piece as strong and unique as possible."
According to Merc, who's helmed notable projects from music videos for hip-hop pioneers De La Soul to spots for HTC during his lengthy career, the "Super Hero" production afforded him the space to realize his vision of bending and manipulating pop aesthetics to create something altogether mysterious and otherworldly. "I wanted to capture something that felt like a visual pop travesty," the director explains. "I wanted it to visually speak to the legacy of the artists, and Afrofuturism mixed with comic book concepts. I'm a fan of the unseen, and I was obsessed with the idea of using Doom's mask and the iconography as a centralized point – as if time and space converged around these strange, sometimes magical tableaus and we were witnessing an ascension."
To help develop his ambitious, imaginative concepts, Merc worked closely with Nathan Love in several key stages of production from ideation and design to technical aspects like compositing and rendering. "Our specialty lies mainly in CG character animation work, which typically involves a lot of careful planning and development work up front," adds NL CG Director Eric Cunha. "Kris has a very organic process, and is constantly finding inspiration for new and exciting ideas. The biggest challenge we faced was being able to respond to this constant flow of new ideas, and facilitate the growth of the piece. In the end, it was an exciting new challenge that pushed us to develop a new way of working that resulted in an amazing, visually fresh and creative piece of work."
Click here to watch the video!